Bird Personality : Smart Owl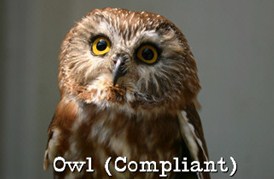 A person with "Smart Owl" personalty is characterized by :
Flexible thoughts, Careful, Disciplined, Rigorous, Strong intuitional quality, is a perfectionist.
Hesitant in speech and behaviour; an absolute perfectionist, so easy to commit errors in pursuit of perfection, might lose an opportunity due to this; can play it by ear, have sense of belonging in the community life.
To communicate with this type of person one should pay attention and give them sense of security by instilling self confidence in them, ask them do not hesitate and miss the chance.
These types of people are positive and desire to learn all kinds of thing, and with a high ability of comprehension; often can be fully self-reflection, but often set themselves up for self-denial.