Bird Personality : Brave Owl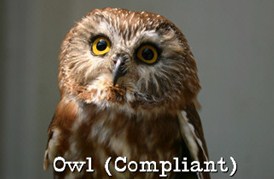 A person with "Brave Owl" personalty is characterized by :
Strong execution capabilities.
Careful, disciplined, rigorous, strong intuitional quality, is a perfectionist.
Attention to details, focused on the technical level. Conversation based on technical reasoning can convince / justify him easily.
An absolute perfectionist, but lacks self motivation. Proper guidance and motivation would help him perform better, They will think a lot in decision making and in case he / she is a thought leading owl then they will take more time to take decisions. There is a tendency to lose out on opportunities due to delay in decision making and hesitation.
Long-term perspective, decision-making power is very strong, likes to be a leader.