Bird Personality : Changeable Eagle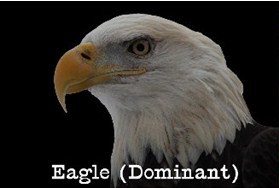 A person with "Changeable Eagle" is characterized by :
Changeable but with strong integration ability
Authority
Courageous & confident
Willing to take challenges
Will march forward once the goal is identified
This kind of person has strong integration ability, active thinking and consider the issues fully.
When communicating with them one should reply briefly and pay attention to their reactions.
There are many entry point when they are thinking, so a full range of communication has to be given to him. They pick up key point from this. "Good is good, bad is bad".